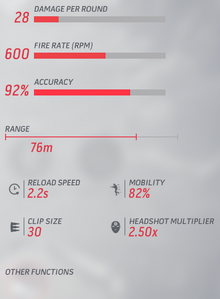 Firebrand is a Light Machine Gun exclusively for Wraith.
Strategies
[
]
With high headshot damage of 70 increasing it to 91 with steady arms allows you to 2 shot Shadow, and Wraith and decrease your ammo consumption against other classes.
Elite shooter allows you to have less downtime while having more DPS preferable if you're mobile, or aren't landing many headshots.
Lone hunter can be used when you're in the backline to know if a flanker is nearby.
Trivia
[
]
Appears to be based off the QBB-95 Light Machine Gun.