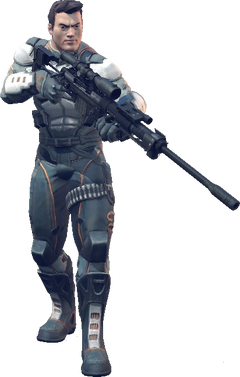 RANGED ASSASSIN
The Wraith is currently the Sniper of Ballistic: Overkill. He can equip Bolt-Action and Semi-Automatic Sniper Rifles as his primary weapon, and he may equip Machine Pistols (or the Machete) as his side-arm.
Class Emblem

The Wraith's class emblem consists of a circle with four lines crossing through resembling a crosshair.
Traits
Become invisible if you stand still for 1.5 seconds.
Never appears in the enemy radar.
Skills
Lone Hunter
When no enemy is within 15 meters, the Wraith gains +15% Rate of Fire, and + 15% Reload Speed.
Lethal
The Wraith gains +20% Damage with all Sniper Rifles, and +10 meters of Range to all other weapons.
Cold Blooded
The Wraith never shows up on radar, even when in sight. Additionally, walking doesn't break invisibility.
Steady Arms
The Wraith gains +30% Headshot Damage, +20% Accuracy while Hip Firing, and +10% Recoil Reduction.
Elite Shooter
The Wraith gains +10% Reload Speed, and +5% Rate of Fire on-kill. Additionally, these perks stack, to a maximum of +40% Reload Speed and +20% Rate of Fire.
Weapons
Sniper Rifles
Machine Pistols
LMGs
Sidearms